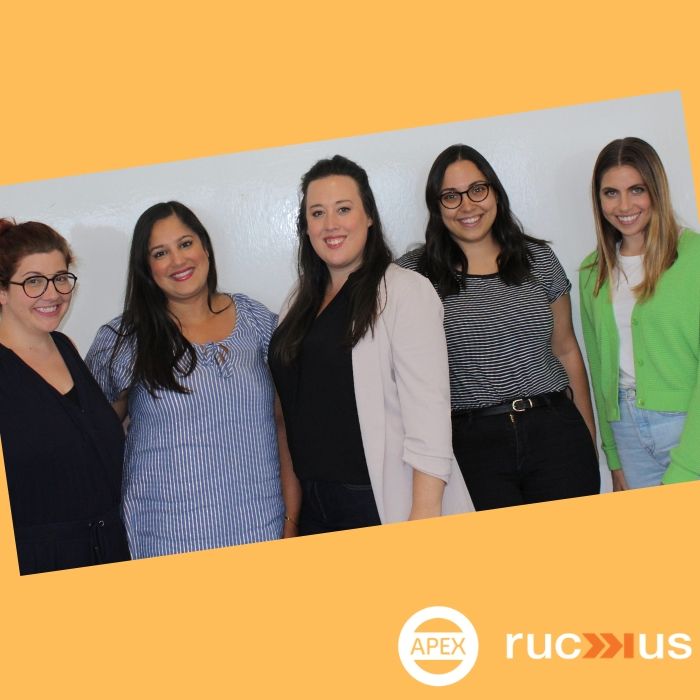 APEX adds senior practitioner to consumer integration team and promotes four across PR and digital groups
TORONTO – August 1, 2019 – Building on a record award-winning year and a number of new business wins, APEX and ruckus Digital are expanding their teams and promoting within.
Emma Bray joins APEX as an account director, consumer integration. Emma's role will focus on senior client counsel and leadership, and she will also support new business growth. Emma brings more than 8 years of experience from numerous multi-national agencies, with a robust background in retail, consumer technology and CPGs, focused on brands such as Mattel, P&G, Toyota and PayPal.
APEX PR also promoted two of its staff: Danielle Scott to account manager and Lindsey Soper to senior consultant. ruckus Digital saw the promotions of Kathryn Boland to account director and Amanda Carreiro to senior digital content manager. The team at ruckus Digital was also recently recognized as IABC Toronto's Boutique Agency of the Year.
"The addition of Emma enhances the strength of our incredibly talented consumer team and delivers on our client promise of one-stop integrated expertise," says Linda Andross, co-managing partner, ruckus Digital and APEX Public Relations. "The promotions of Amanda, Lindsey and Katie continue to showcase our commitment to internal team growth and promotion. Together, the combined experience of this group will greatly benefit our clients, particularly those, as outlined in our CMO Lab research, that recognize that brand and organizational reputation have become increasingly important in the past few years."
About CMO Lab and The Pivot podcast
To better understand the evolving role of the CMO and the emerging risks, challenges and opportunities facing marketers and brands, APEX Public Relations, ruckus Digital and Maru/Blue came together to launch CMO Lab, a proprietary research-driven project to equip senior-level marketers with the actionable insights they need to help their organizations succeed in a disrupted environment.
In addition to the CMO Lab's quantitative and qualitative research, first-hand insights from senior marketers highlighting how they are responding to change are available in The Pivot podcast. Additional details are available at: cmolab.ca
About APEX Public Relations and ruckus Digital
A fiercely independent agency duo, APEX Public Relations and ruckus Digital (our agency within an agency) are comprised of experienced, smart, unconventionally minded creative communicators. The foundation of our success is our unwavering passion for our people, our purpose and our clients. In that order. The priority we put on our people allows us to consistently attract and retain a collective of diverse story makers, storytellers, strategists, data scientists, writers, filmmakers and social media experts. Our impressive track record with powerhouse brands and companies stems from our highly effective staff, but also our innate ability to adapt and respond to the constant evolution of the communications industry. We perpetually innovate and re-imagine ensuring the best possible result for our clients. Our sweet spot lives at the intersection of people, brands and technology. And our life's work is dedicated to partnering with innovative companies in consumer brand marketing, technology, corporate, B2B and issues/reputation management sectors to tell their stories, engage their audiences and drive their business.