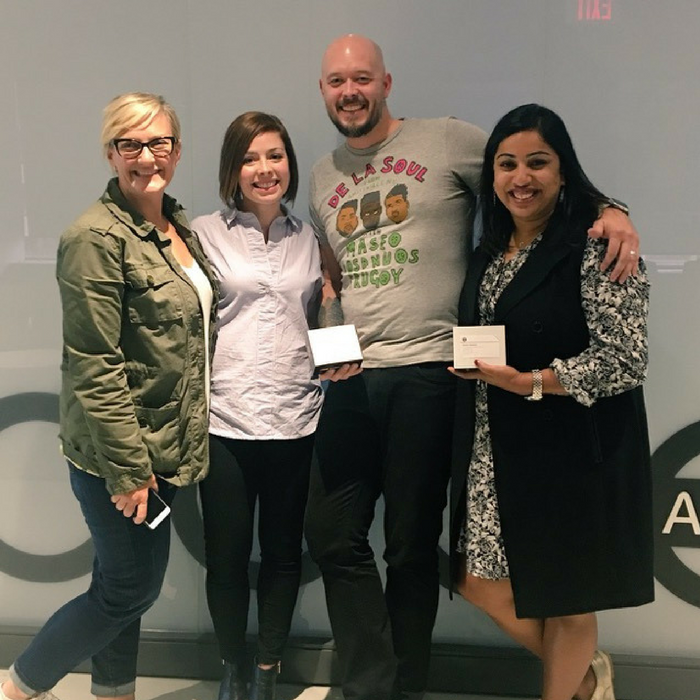 APEX PR/ruckus Digital amp-up its integrated marketing strategy
Toronto, October 26, 2017 – Following another strong year of multi-channel programming for its diverse set of clients, APEX PR and ruckus Digital today announced the promotion of four key senior practitioners into integrated communications roles for consumer, corporate B2B and design.
Jennifer Stein, a 10-year veteran of APEX PR and one of the forces behind Walmart's soon to be released branded content web series, Upstairs Amy, becomes the senior vice president of integrated consumer marketing. Anne Locke, a brand strategist with more than a decade of experience, becomes vice president of integrated communications on the consumer team. And Rohini Mukherji, who exemplifies client business acumen in her approach to client relationships, has been named vice president integrated communications on corporate B2B. Also effective immediately, ruckus Digital Director, Gary Edgar, brings his creative acumen to the new role of vice president creative and design services.
"As a full service PR and digital agency, counselling clients in consumer brand marketing, corporate and B2B communications and reputation management, we have experienced significant growth bringing comprehensive integrated communications strategies to our clients across media, influencers, social, stakeholders and internal channels. It's been the deep strategic acumen of our senior team that has fueled this innovative programming and growth, resulting in their well-earned promotions," said Linda Andross, co-managing partner, APEX Public Relations and ruckus Digital.
In the last two years alone, approximately 85 per cent of the agency's long standing and new clients have amplified sophisticated brand strategies across multiple channels and with diverse target audiences and influencers. The impact of such comprehensive and coherent programming has been a marked boost in meeting and exceeding qualitative and quantitative client objectives.
"In the interest of our clients' business and marketing goals, it's been incumbent on the team, especially our whip-smart senior team, to diversify programming across the right channels and particularly across relevant audiences," said Kenneth Evans, co-managing partner, APEX Public Relations and ruckus Digital. "The bonus for us as practitioners is that it results in far more dynamic and rewarding work, and makes for much deeper client collaborations."
– 30 –