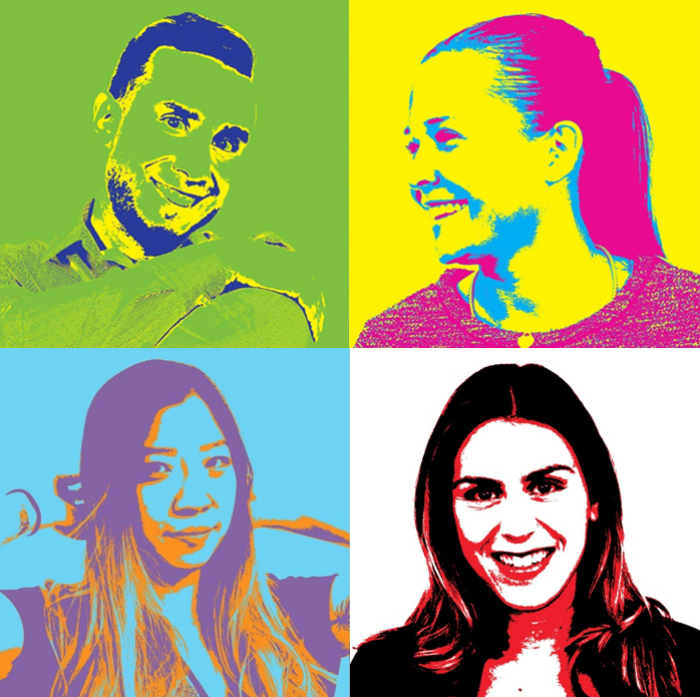 Meet our interns
Over the years, APEX Public Relations and ruckus Digital have taken in two interns every year to integrate them into the world of communications.
This year, we have the pleasure of adding four interns to the team. Each intern brings their own set of unique and diverse skills, but there's no better way to get to know our interns than having them write a little bit about themselves.
Kevin Behar
Twitter: @KevinBehar
Instagram: KevBehar
My name is Kevin and I am a 25 year old from Toronto. I just moved back from the USA after living there for seven years (I was there for my Bachelor's degree, MBA, and I worked for two years). I was lucky to be given this opportunity to work for APEX/ruckus and I jumped on it. This may be cliché, but this is a place where everyone is actually nice to everyone, and they really want you to grow professionally and personally. Reach out if you like to talk about the news, playing and/or watching sports, and eating food (especially trying new foods).
Kristina Mikhalkova  
Twitter: @mikhalkovakris
Instagram: MikhalkovaKris
I'm Kristina, a recent graduate from the Humber Public Relations program. I've always admired communications and last year earned my degree in Business Communications from Brock University. APEX Public Relations has always been a front running agency when it came to applying for an internship position. I've respected the culture and atmosphere crafted by the APEX team since first visiting the office six months ago. Inclusivity, sharing knowledge and happiness are just some of the daily things you experience when interning at APEX Public Relations. There is never a dull moment and you are constantly absorbing new and exciting things about working in public relations.
Alison Chiu  
Twitter: @alichiuchiu
Instagram: ahhhchoo
I'm Alison and I'm the newest intern at APEX Public Relations and ruckus Digital. I had the opportunity to work in store communications at a retail corporation through a co-op internship prior to coming to APEX. This co-op placement was completed with the Public Relations and Corporate Communications postgraduate program at Seneca College. I also have a background in psychology, film, digital media, and production design – which I intend to use towards developing my career. Before I started my last internship, I already had APEX on my radar. I wanted to engulf myself in the fast-paced, craziness of the agency world and knew that it would be an amazing learning experience. I've always wanted to be in a creative environment, which I have found here at APEX/ruckus and I'm grateful for being able to work with such a friendly and supportive team.
Kristia Pavlakos
Twitter: @KristiaPavlakos
Instagram: kristiapavlakos
Hi! I'm Kristia. I've been with APEX for about four months now, and I love it! I didn't start out wanting to get into PR, though – in university, I actually specialized in English and majored in Criminology with the hopes of becoming a lawyer. I soon realized that I loved writing and creating narratives, so after I graduated, I continued my studies and completed my Master of Arts in English at McMaster. Something just wasn't clicking for me, though – I wanted to tell stories, yes, but I wanted something a little less abstract and a little more real-world. So, I found myself at Ryerson, doing my Master of Professional Communication. Here, I found my niche, and I was able to apply my love for telling stories to create engaging narratives around brands.
Working within an agency is a completely new and different experience for me – every day I'm given the opportunity to try new and exciting things, like coordinating blogger campaigns! This is truly an amazing group – everyone is willing to help each other out, and I'm always learning new things from my clients and colleagues.  We truly love what we do, and I'm so happy to be a part of this team.
(From left: Kristia, Kristina, Kevin and Alison)
Also published on apexpr.com