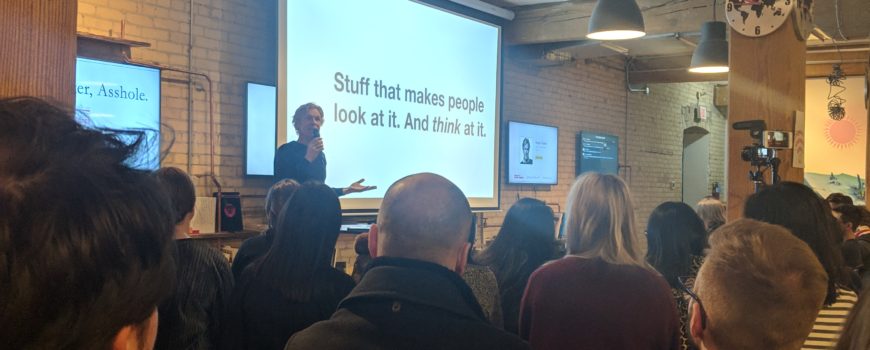 Three ad copywriting tips
We're supporters of Miami Ad School Toronto training. In fact, our integrated designer, Vanessa Cuartas, is even profiled as a testimonial for their UX program!
Recently, we attended their copywriting session, "Write Better, Asshole." with advice from Angus Tucker chief creative officer from John St.
Here are our top three copywriting tips from that session:
Advertising comes with great responsibility: As a very public medium seen by millions of people there is an inherent obligation from society to represent the average – so avoid the following unrealistic clichés:

Supermoms
Dopey dads
Kids smarter than their parents
Models

Rebel against the category standards: Before starting to write, do your research on the competitors and market industry to uncover some of the clichés around the category.

Like in dishwasher ads, they're typically arguing whether a dish needs to be washed before adding it to the dishwasher (like who does that?). Therefore, look to avoid anything in your advertising that is expected of the category to stand out stronger.

Tell a truthful story: Don't try to write an ad, but tell a truthful story your audience can relate to, so avoid the following clichés:

Neat, tidy endings
Overselling a product
Fake, unrealistic conversations
Overall, his key takeaway was to be truthful in your advertising and avoid the stereotypical. Want to check it out for yourself? Click here for a video from the event.
To add to these tips our Katie Boland hates the saying "Need XX? Don't worry, we have you covered!"
What are your copy pet peeves?
Contributors to this piece include Katie Boland and Vy Do. Need help with your social strategy? Drop us a line.