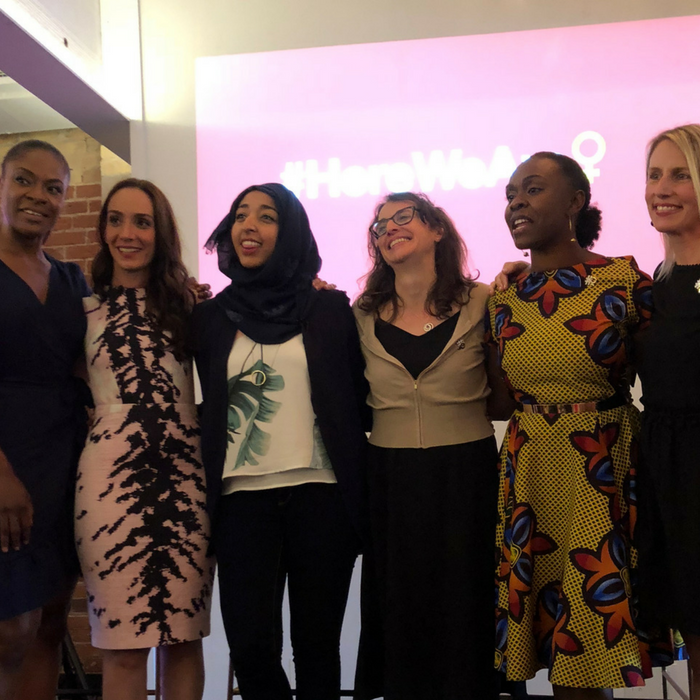 Image from left: Jully Black, Leslie Berland, Huda Idrees, Antoinette Benoit, Emily Mills and Leanne Gibson.  
Earlier this spring, Twitter launched #HereWeAre to "stand with women around the world to make their voices heard and their presence known."
Last Wednesday, June 13, as Mother Nature made her own presence known through an #ONstorm, women and men leaders (including our own Linda Andross, Ken Evans and me) congregated at Toronto's Broadview Hotel to concurrently launch Canada's #HereWeAre dialogue. (Incidentally, the storm trended as #1 on Twitter, followed by #HereWeAre.)
The conversation, led by Leslie Berland, global CMO of Twitter, included
The event was capped by a surprise visit from international recording artist Jully Black who offered marching orders through song.
Possibly the most fun I've had at a women's networking event: @JullyBlack sends #HereWeAre home, singing to tell us all to look in the mirror and "CHANGE" a la Michael Jackson pic.twitter.com/NSLHZk8Qg9

— April Fong (@aprilfong) June 13, 2018
Now it's all our turns.
Need help finding your voice? Drop us a line. Diane Bégin is VP, social marketing & brand communications. Follow her @dibegin.
#HereWeAre Canada Twitter Moment